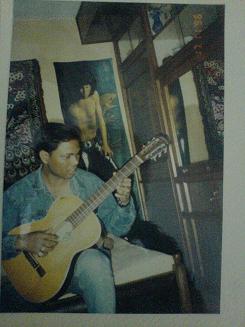 This feature about Alexander (Guitarist and instructor Dolce Music Institute) is a prime example of how the best comes out of an individual at crucial junctions in ones career. As we all have studied the road less taken by Robert frost, it truly applies for this musician as he set out on a more difficult and challenging role as a Guru who teaches music from his heart and the sole motto of his teaching is to take the teaching to the next level where students not only enjoy the classes but develop a sense of togetherness in the music community created by him. His penchant for the music is clearly understood when he gave up a more lucrative option of being a session guitarist, making good money and recording with prominent musicians to spread the art of teaching music in a way that truly enthralls the masses. Fortunately he ends up as a music teacher.
For the people too young to have know him, for those not fortunate enough to have shared the same time and space as he did; for those who knew of him during his lifetime, but never took the time or had the inclination to seek him out, and for those who did and failed, due to one cause or another, he is a true example of what he follows in his own words "IF you have the will then you can do it... follow 3 simples steps... PASSION...PATIENCE. ..PRACTICE".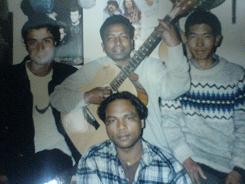 Dolce Alexander has been playing guitar for past thirteen years. He is very fluent with chords, inversions, modes, sight-reading, and bringing out a creative style of learning and playing. His goal as a teacher is to nurture the passion of the students with his experience to bring out creative artists. Attaining this goal includes teaching basic and jazz chords, scales including harmonic and melodic minor, inversions of both scales and chords, the modes, and sight-reading.
An Astrophysicist by qualification, and a recognized Music teacher in Hyderabad, has completed his Bachelor in Music from the prestigious YONG SIEW TOH CONSERVATORY OF MUSIC, under NATIONAL UNIVERSITY SINGAPORE (NUS) in 1999. He has completed his theory, under the prestigious musician Daniel Burch, and practicals under Bill Waden.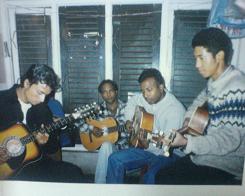 Although, the main instrument Classical Guitar remains his favorite, he has the ability to teach different styles of playing guitar like Lead, Rhythm, Flamenco, Bass, Blues and Jazz guitar outlines. Apart from teaching guitar, Dolce Alexander also teachers Western classical piano, violin, Electronic keyboard, Mandolin and Mouthorgan.
He prepares students for the prestigious Trinity College of London (TCL), London College of Music (LCM), and The Associate Board of Royal School of Music (ABRSM).
He is a full time teacher and a session Musician.